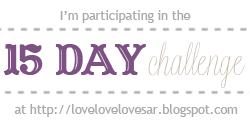 Day One: List 15 fun facts about yourself
1. I am a stay at home mom and wife. I never thought I would love staying home but I do and do not want to go back to work any time soon.
2. I have never really been an athlete but after meeting my husband I have more of a desire to jog and work out.
3. I am loving the Olympic Trials and can not wait to watch the Olympics.
4. I recently have become obsessed with lists. I am not sure what triggered it...maybe me forgetting everything helped that.
5. I cannot get enough of sour patch kids and dark chocolate.
6. I have a hard time finishing books if I lose interest.
7. I am in the middle of writing a 101 in 1001 List. Better late than never :)
8. I love coffee and sweet tea, the taste is yummy and the energy is great too.
9. My husband and I believe our dog understands what we say. We talk to him like he is a kid, we like to think he is half boy and half dog ;)
10. I will have a BS degree in Psychology in December but I still do not have a clue what I want to do with my life.
11. I love to carry on conversations with people. Everyone has a different story to tell and I truly believe we can learn something new from others.
12. I enjoy watching cooking shows for inspiration for meals. I also can spend hours looking at recipes but hardly ever follow them completely.
13. I have decided to make a cookbook. All my recipes will go in there and I will give it to my daughter when she moves out or gets married.
14. I love doing crafts but hardly ever do them.
15. I hate socks, the only time I wear them is when working out or wearing boots.