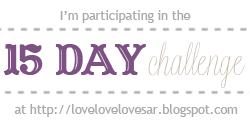 I am sad that today is the last day of the challenge. I really enjoyed it and have found new blogs to follow. It also was a great way to get me in the routine of blogging daily.
What's the best compliment you've ever received?
I am not sure what the best compliment was I have ever received but the compliment that means more to me than anything is when my husband tells me that he and our daughter is blessed to have me as a wife and mommy. Those words make my heart smile and I love hearing them :)
I hope even though the challenge is over that you will continue to stick around my blog!